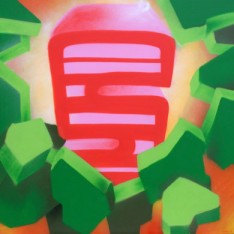 Twice, DSB (State-owned train operator) launched a computer game on their website, trying to affect young people not to paint graffiti or at least influence them not to like graffiti. The game was called S-man and was developed by the DSB S-train department in co-operation with Snabel & Co / Raffinaderiet, and in the November 1998 issue of the DSB "Ud og Se" ("Out and See") magazine for commuters Paul Metelmann wrote "S-man; a tiny fellow in blue overalls and a big cap racing around in an S-train removing graffiti, putting up new windows and fixing seats. And while doing his useful job, he meets various passengers and engages in chit-chat with them."
Later, DSB launched S-World which served the same purpose. Today both games have been removed from the website and one can only guess that it is because they had no effect or one could guess that it created more interest in graffiti...
Either way, the S-man inspired this painting with an ironic approach on DSB's action. Perhaps the S-man was to be associated with Superman, but there is not much Superman in playing computer games - there is a bit more power in being a graffiti artist, not a tiny guy running around in a S-train in blue overalls and big cap removing graffiti.
Privately owned.